PRINTING SERVICES | ROCK HILL, SC



Here at Blue Fin Digital, we provide printing services for all your needs. If you've got a project in mind, no matter the size or scope, we can do it for you. Whether you need a one-color business card printed or large run banners and catalogs to be made with our high quality printers, we'll make sure it's done right! That means catching any mistakes before they happen so that your final product is ready to be enjoyed and go out into the world without delay.
Good design is about communication, it has to reach the right person at the right time. If your message isn't being heard, you may need more help than just graphic design. Our team can take care of all aspects of the project and ensure that your audience experiences it exactly as you intended. Contact us for Pricing info so that we can answer any questions that you may have and give you accurate pricing on your project!
Business Card Printing Services

Business Cards are a time-honored way for people to swap contact information and provide a quick visual impression to the recipient. Their size makes it easy to keep them with you at all times, so you never lose an opportunity to make a valuable new contact. Consider adding a coupon or other promotion to the back of your card to help your new contact become your new customer.
Business Cards provide contact information in a convenient, standardized size. While much of the information is the same from one Business Card to another, font, style, substrate, and imagery set you apart and make your impression unique.
Flyer Printing

Services

Flyers and brochures are a classic marketing weapon for a reason. They are an efficient way of getting valuable marketing messages in both images and text directly into the hands of potential customers. They allow customers to quickly get a feel for products or services, while also finding answers to many of their initial questions. Brochures are great to include in a sales kit or pass out in high-traffic areas.

Brochures and flyers are a popular format for sharing detailed information in a highly presentable way. They are usually colorful and folded, so they are an efficient format for providing information about your company, its products, and services.
Request Printing Quote
(No Obligation)
Please tell us about your printing project in as much detail as possible and we will get you a quote back within minutes. If we need additional information, we will call you in order to expedite the quoting process.
Bookmark Printing Services
Bookmarks are a great way to interact with your customers. They can be sold or a fun giveaway that customers will use over and over, which creates constant contact with your message, brand, logo, or list of services.
The most common order options are 2.5″ x 8″ on 14 Pt. Gloss Cover stock. Almost always, Bookmarks are printed in full color on both sides (4/4).
Our printing services can take your project to the next level, so contact us today to get started!
Calendar Printing Services

Calendars are a great gift or merchandise item for customers to remind them of your business or message each month. Advertisements, images, or other helpful information engages customers as the year rolls on. They are a smart way to keep focus on your message and build excitement about products or special events. When the customer turns the page over at the end of each month, they are greeted with something new.
Calendars are a popular tool for keeping your brand or message in front of your customers month after month. Often focused more on design than text, Calendars showcase one month at a time along with your chosen image or message.
Door Hangers Printing Service

Door Hangers are used to spread a consistent message or campaign through a desired area. They are commonly used for restaurant delivery menus, advertising services and products, or political campaigns. It's hard for people to miss a hanger on the door when they come home, so this is a high-visibility marketing solution. Door Hangers often include discounts, coupons, or special offers.
Door Hangers are flyers that have a 1.25″ diameter circle cut out with an accompanying slit that allows them to hang on a doorknob. They are very common in guerilla marketing campaigns, as they nearly guarantee customer interaction.
Envelope Printing Service

Printed Envelopes are a great way to reinforce a company's identity and create a clean, consistent impression. These are the professional touches that show high attention to detail and help you manage your brand consistently.
Available in many different sizes, Envelopes can send a variety of materials. We can print any image or text anywhere on the Envelope, so long as there is room for addressing and postage.
Utilizing our printing services can reduce your production time and help get your information to market quicker. Contact us today to get started!
Custom Greeting Cards

Greeting Cards are an ideal way to impress business partners, send a special message to customers, and build excitement about an upcoming event or promotion. They create a personal touch that connects with clients in a way other than traditional advertising.
Greeting Cards are large, folded notecards with an area for a personalized message on the interior. They are a popular way to celebrate holidays and special events. Usually, they are colorful and have images on the outside.
Hang Tag Printing

Often used with clothing and in other retail settings, Hang Tags are a popular way to market a business or brand and call attention to product features. They help create a consistent identity and they are a "must have" for apparel sales. Studies have shown that Hang Tags attract attention and drive up sales in a retail environment.
Hang Tags are typically rectangular and printed on sturdy stock with an optional hole for attachment to the product.
Simple in their design, Hang Tags generally provide basic but important information, like a company's name and website or call attention to specific product features.
Custom Sticker Printing Services
Stickers are an easy way to add a unique design to help establish your brand and clearly state what a product is. They are great for customizing any otherwise generic item. Stickers are also a helpful organizational and advertising tool. Use our stickers to tell your customers what a product is, how to use it, or why they want it. Stickers are printed on the front side of adhesive-backed stock.
We also have a quick turn-around time for all of our printing services, so contact us today and we'll take the work out of it for you.
Letterhead Printing Services
Letterhead creates a strong impression in business correspondence, whether for formal letters outside the company or internal memos. It's a way to tie your messages to you and your company, which shows attention to detail and maintains your brand identity.
Letterhead is customized stationary that typically showcases a company or person. Our Letterhead is also available on linen texture stock for a unique look and feel.
One common option is to order second sheets that typically only include the logo from your full Letterhead without address and other contact information. Use the Letterhead with the full details for the first page of correspondence. Logo-only second sheets are also great for internal communication. To get second sheets, place a separate order for Letterhead with just the logo graphic. Make sure to order the same stock and printing method.
Notepad Printing

Notepads are a popular way to keep your company identity in front of customers. They are also a great tool for keeping your message in front of an audience. Consider Notepads at your next seminar, conference, or any place your audience needs to take notes.
Notepads come in 25, 50 or 100 sheets backed by chipboard and are glued at the top. They are available in 1, 2, and 4 color printing. 1 & 2 Color Notepads are available in Pantone colors.
Postcard Printing Services
Postcards are one of the most popular marketing tools. Whether mailed or left on display, the broad range of size choices caters to many marketing messages. From 4.25″ x 5.5″ to 8.5″ x 11″, Postcards are available in various sizes to fit your budget, convey your message, and command attention. When mailed, they help your message reach a target audience. Postcards are also one of the most popular marketing items displayed in a retail environment and make great marketing takeaways with product or upcoming event information.
Postcards can be printed 1 or 2-sided and are often mailed. They come in a wide variety of sizes and on a broad range of heavier substrates. Different coating choices and optional rounded corners add to your unique design.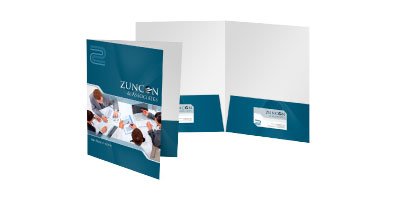 Presentation Folder Printing

Presentation Folders help you professionally organize and package your printed materials. You can use them in one-on-one meetings or with large groups to ensure consistent organization. They make it easy for your recipients to keep all of the material you provide together in an easily transportable and organized way. Presentation Folders also offer you a nice sized canvas to emphasize your brand or reinforce your message.
Presentation Folders are a tool designed to package and organize several other pieces of printing. In addition to the standard folder design, Presentation Folders have 1 or 2 pockets on the inside to hold your materials. They also offer convenient corner slots on the interior pockets to make it easy to include a business card.
Rack Card Printing
Rack Cards are a printed tool that provides your information at a glance and in multiple copies, so that it is easy for people to take one. This makes them great for informational flyers with coupons, maps, or other promotions. Commonly used by companies promoting services at hotels, tourism boards, or other areas with a high volume of foot traffic, Rack Cards get a simple message across fast and are a good way to make people aware of your services.
Rack Cards are printed full color on heavy stock and designed for display in an industry standard 4″ wide rack, often with other information and offers.
Table Tent Printing

Table Tents are used for more than restaurant upsells. They are a powerful tool to sell when you are not able to be there, attract repeat business, promote new products or services, and for special events.
Table Tents are printed on one side only. They have (3) die scores and (2) die slits to create an easy interlocking system. Even-though the Table Tents are shipped flat they are quick and easy to assemble to form a 2-sided tent shaped marketing piece.
Tear Cards Printing
Tear Cards are a fun way of creating more interaction with customers, as the customers actually engage with your advertising. A perforated section 2″ from the end tears away from the card and creates a business card size piece for customers to keep. This is a great place for a coupon, promotion, or contact information. They also make high-quality raffle tickets for special events.
Tear Cards are printed on flat, rectangular, heavy weight stock in full color. They are perforated 2″ from the end, which makes it convenient to include a coupon or contact information. This way, customers do not have to keep the whole card just to get the information they want to hold on to.
Additional Resources
Below is a list of a few additional resources that you will find helpful when deciding what type of printing you'd like to have done for your group, church or business.
Still Have A Question About Our Printing Marketing Materials?
Contact us today so that we can discuss how large variety of printing service can help your business go to the next level.